MY DINH – THE HIGHEST RENTAL YIELD RATES OF ALL DISTRICTS IN HANOI
23/10/2019
Amidst Hanoi's ever-changing real estate sector, which rental segment is attracting investors? What is the "hot spot" in Hanoi's property market? The answer is the office segment in West Hanoi.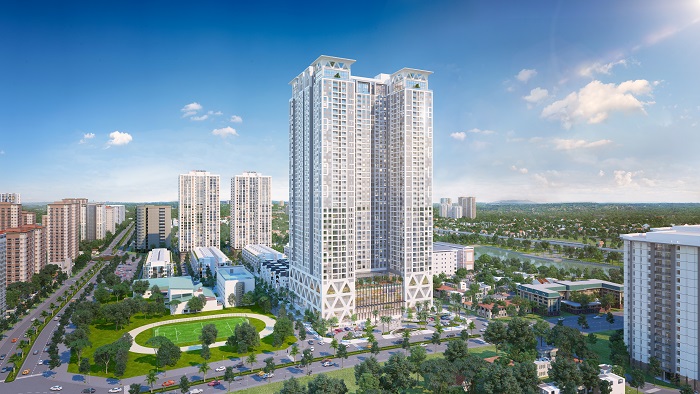 According to the Quarter 2 report from CBRE, just one new Grade A office building and two Grade B office buildings were launched. Located in West Hanoi, the three office buildings account for 50% of Hanoi's new office supply since the beginning of 2019.
On operating results, both Grade A and B offices have performed well. The average rental yield of Grade A offices in Q2 increased by 5.3% over the same period last year, reaching USD 26.4/sqm/month (excluding service charges and VAT). Similarly, the average rental yield of Grade B offices increased 4.6% y-o-y, up to USD 14.3/sqm/month.
Through the remainder of 2019 and the entirety of 2020, approximately 260,000 sqm will enter the market, mostly located in the West, Ba Dinh and Dong Da districts.
The market is showing positive signs to investors, as technology companies have emerged as high-demand tenants, the growing trend of tenants choosing to extend leasing contracts or choosing long-term leases in the first place (term of over 10 years). Additionally, the US-China trade war has entailed a wave of moving companies and representative offices to Vietnam. Groups or individuals leasing for investment purposes often require large areas of over 1,000 sqm and end-users prefer spaces in the range of 500-1,300 sqm.
CBRE identified West Hanoi as the "hot spot" in the office leasing market. Mr. Bui Trung Kien - Director of Commercial Leasing Department of Savills said "with the modern and newly-developed infrastructure, particularly the upcoming metro line, the West provides great accessibility to the rest of Hanoi. The West will also house the largest office supply in Hanoi, and is on track to become a core economic and administrative center."
High-end apartments prices have been steadily increasing, as demand exceeds the supply
In the high-end apartment segment, CBRE recorded an average price of $2,345/sqm (equivalent to over VND 54 million/sqm), up 4% q-o-q and 10% y-o-y, which is also the highest recorded average price in 5 years.
The Quarter 2 report from batdongsan.com.vn revealed that the Hanoi real estate market has seen new developments launch at all price points. Currently, there are a large number of projects with selling at a rate of VND 50-70 million/sqm.
The shortage in the high-end apartment supply comes at a time when demand is relatively high. Furthermore, the increase in FDI in Hanoi has led to a rise in the housing demand for expatriates. According to CBRE, in the first quarter of 2019, FDI was the bright spot in Vietnam's economy. Total FDI, including newly registered capital, additional capital and repurchased shares, has reached USD10.8 billion, up 86.2% y-o-y. Manufacturing and processing industries remain attractive investment sectors with a total FDI of USD 8.4 billion, amounting to 77.7% of total FDI.
The real estate sector has attracted the second highest levels of FDI, with USD 778 million, equivalent to about 7.2% of total FDI. According to surveys from real estate agents, as of July 2019, in many high-end projects in Hanoi, the 30% quota for foreign buyers are quickly filled up as soon as sales launch. In particular, high-end projects from well-known developers are top choices among Korean and Japanese nationals.
Assessing foreign buyers' attraction of the high-end real estate segment, Mr. Nguyen Van Dinh, General Secretary of Vietnam Real Estate Brokers Association said "the demand from foreign buyers in Vietnam increased significantly when the Housing Laws were amended to allow foreigners to buy no more than 30% of the total number of apartments in a project. Due to the large demand, an increasing number of foreigners bought to lease and resold for returns. Most buyers will choose high-end projects developed by reputable and trusted developers that come with diverse amenities."
Market records showed that the West, especially My Dinh, attracted a large number investors from Northeast Asia. West Hanoi is not only an ideal place to live but also achieves impressive rental yield rates. According to CBRE's report, in the first 6 months of 2018, apartments for rent in West Hanoi (including the My Dinh area) reached the highest annual rental yield rate of 5.7%, higher than other areas such as Dong Da - Ba Dinh (5.4%), Tay Ho (5.5%) or the Southern districts (5.4%).
Located on No.8 Le Duc Tho (My Dinh), The Zei is a high-end mixed-used condominium with 891 beautifully appointed and intelligently configured apartments spread across 42 floors. The Zei provides a promising rental yield rates to its buyers.
The Zei is in close proximity to international schools, clinics, Grade A office buildings, parks, lakes and numerous shopping and entertainment destinations. It is right by the upcoming metro line and Ring Road 3 which brings you to the airport in 30 minutes and provides direct access to numerous industrial parks.
For more information about The Zei, please contact the exclusive agent – Indochina Properties. Hotline: 090 2277 296