PART 1: Vietnam – Asia's Next Tiger is Growing Fast
10/10/2017
In recent years, Vietnam's economic rise has increasingly caught the attention of foreign investors. Since its economic transformation in 1986, the country has made remarkable strides to become one of Asia's top emerging markets. With a growing middle-class, increasing purchasing power and a healthy birth rate, Vietnam has promising demographics for growth. The country has a sustainable GDP growth rate of over 6% annually between 2014-2016, reaching its all-time high of $193.6 billion in 2015 (Figure 1). Vietnam has also made considerable efforts to ease regulations and attract foreign investors by reducing quota limits on foreign shareholders, providing easier access to the Vietnam stock market and opening real estate market to foreigners.
By now, the country has become the investment magnet within the ASEAN community and is on track to be among the fastest growing economies in Asia. Vietnam aims to transcend its neighbors Cambodia, Laos and Myanmar and to catch up to the ASEAN-4 - Singapore, Malaysia, Thailand and the Philippines. With a huge and dynamic population and a stable macro economy, Vietnam is becoming a promising market for industrial sectors, stock markets and real estate investment.
Figure 1: Vietnam GDP Growth rate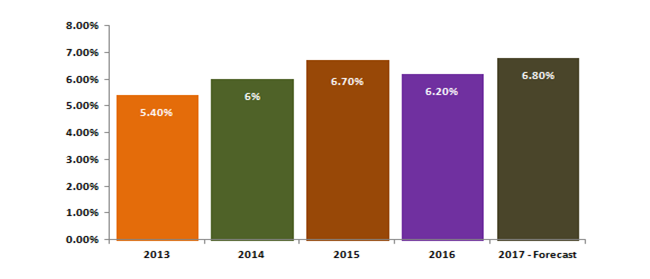 Source: PWC & General Statistic Office
After a post-GFC slowdown, Vietnam has made considerable efforts to ease regulations and attract foreign investors over the past decade. This was visible in the opening of the general business environment by reducing quota limits on foreign shareholders, easier access to the Vietnamese stock market and opening of the real estate market to foreign investors.
RAPID INDUSTRIALIZATION
Vietnam is widely regarded as the "next China." The similar trajectory of development in terms of industry, largely based on increasing Foreign Direct Investment (FDI), a vast labour force at a cost of roughly 30% of that of China's today and a strategic location within Southeast Asia make Vietnam the top contender for multi-national corporations (MNC's) as an ideal location for new factories.
Figure 2: Average nominal monthly wages in selected countries in Asia and the Pacific, 2015 or latest available years ($)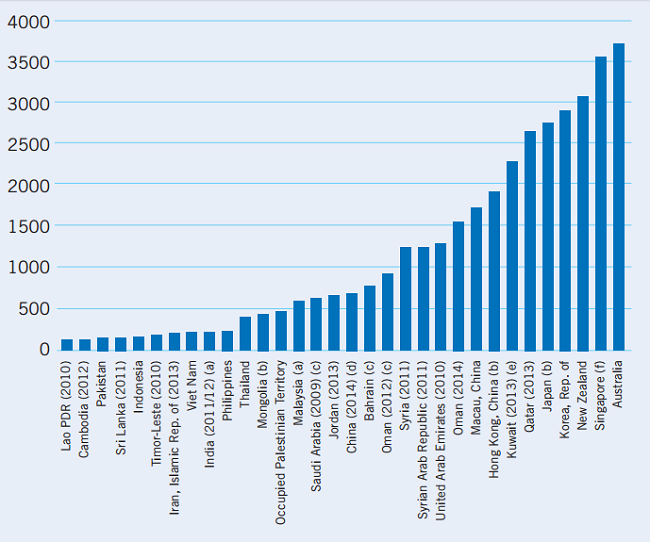 Source: International Labour Organisation (2016)
To spur FDI, the Vietnamese government has been boosting the country's international profile and economic integration through a variety of free trade agreements and associations, most notably the ascension to the World Trade Organization (WTO) in 2007, followed by a flurry of free-trade deals with notable partners such as Korea, the European Union, Canada, China and the ASEAN Economic Community (AEC). The foreseeable future growth of Vietnam will be underpinned majorly by the continuation of these efforts.
In 2016, FDI has seen a 9% y-o-y increase from $14.5 billion in 2015 to $15.8 billion. The outlook remains very positive, demonstrated by the substantial q-o-q growth rate of 77.6% in newly registered FDI recorded in Q1/2017. South Korea, Japan, Singapore and China are among the most significant investors. While facts and figures speak a clear language, it is also evident in the 'gold rush' by foreign institutional investors aggressively entering the market to identify buying opportunities, be it in mergers and acquisitions of listed and non-listed companies, sites for industrial or commercial development or operating assets such as office buildings, hotels and resort.
However, the largest investment is seen in the manufacturing sector, particularly the garment and processing industries, where there's a shortage of low-cost factory workers in the industrial heartland around Shenzhen and Guangzhou due to rising labour costs in China over the past decade. With razor-thin profit margins, these manufacturing businesses reacted swiftly to the challenges posed by the increasing cost of business and are now relocating en masse to Vietnam, a more promising destination.
There is continued interest and demand for relocation of factories from Chinese, Korean and Taiwanese businesses to Vietnam and the outlook is promising that this will translate in further GDP growth over the next decades.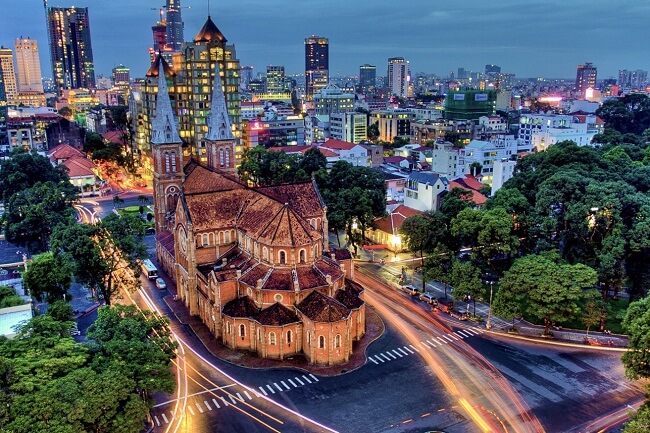 Image: Ho Chi Minh city, Vietnam
Related post: Vietnam – Asia's Next Tiger is Growing Fast (Part 2)